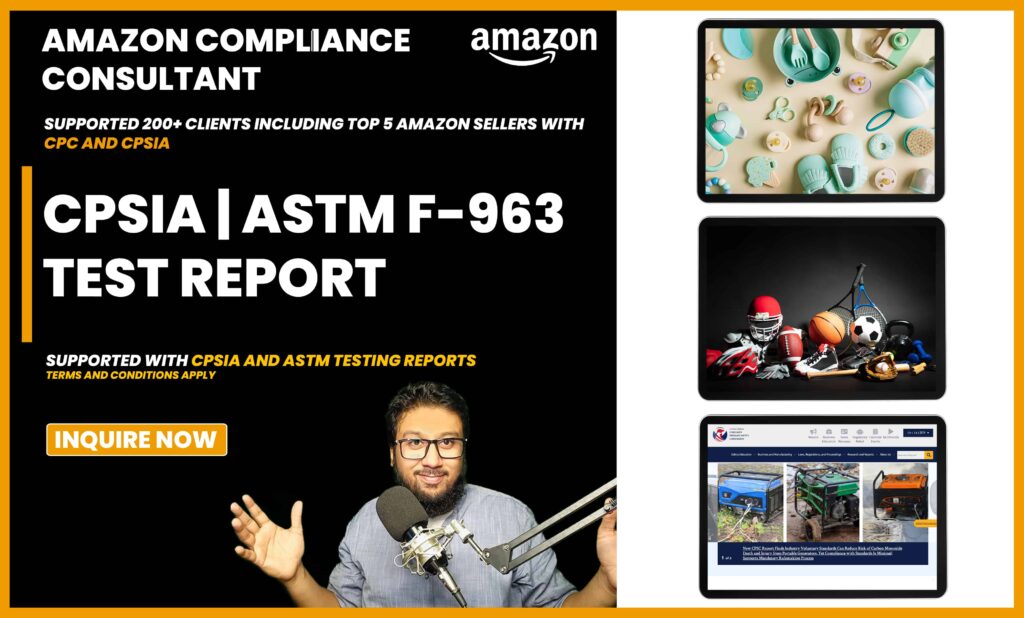 Are you tired of worrying about compliance with CPSIA (Consumer Product Safety Improvement Act) and ASTM (American Society for Testing and Materials) regulations for your Amazon listings and business? Let us take the stress out of compliance with our CPSIA and ASTM Test Reports service.
Our service ensures that your products meet the safety standards set by the CPSIA and ASTM, and provide the required documentation for your Amazon listings and business. I will work with you to identify the products that require testing, arrange for the testing to be conducted by a third-party laboratory accredited by CPSC, and provide you with the test reports in a timely manner.
These test reports are often required for Amazon listings and businesses that sell products that fall under the jurisdiction of the CPSC (Consumer Product Safety Commission) and ASTM International.
CPSIA is a federal law that was enacted in 2008 to improve the safety of consumer products, particularly those intended for children. It requires that certain consumer products meet safety standards for lead and phthalates, as well as labeling requirements for tracking and certification. CPSIA also requires that certain children's products be tested by a third-party laboratory and be certified as compliant with the safety standards.
ASTM test reports provide information about the compliance of a product with relevant ASTM standards. These standards are developed by ASTM International and cover a wide range of products and industries, including toys, textiles, electrical products, and many others.
The CPSIA and ASTM test reports are typically generated by third-party testing laboratories that have been accredited by the CPSC and ASTM International. The reports include information on the product tested, the testing methods used, the results of the tests, and the conclusions of the laboratory.
I will ensure that your products meet the safety standards set by the CPSIA and ASTM, and provide the required documentation for your Amazon listings and business, thus protecting your customers, your brand and your business.
ABOUT SYED MUHAMMAD SHAMUEL SHEES:
Syed Muhammad Shamuel Shees (PE, CSP, CMIOSH, OSHA Authorized Outreach Trainer) is a diversified professional having strong expertise in compliance, e-commerce solutions, business development, and occupational health and safety. Currently working as "Director Business Continuity" and supporting various Fortune 500 companies in several segments of occupational safety & health and sustainability. Having worked with top brands in the UK & USA and managing complex requirements successfully; he is a renowned compliance expert. Few of his areas of interest in compliance fall within CPSC or Regulation (EC) No 1223/2009. From gap analysis to implementations, training top management to support staff, and business growth to its sustainability he is a valuable asset for organizations.
He is having extensive experience of over 16 years in consulting and supports services to various industrial sectors. If you are looking for Amazon Services or Ecommerce Support then you are at the right place that assures exponential business growth.