AMAZON LISTING SEO OPTIMIZATION: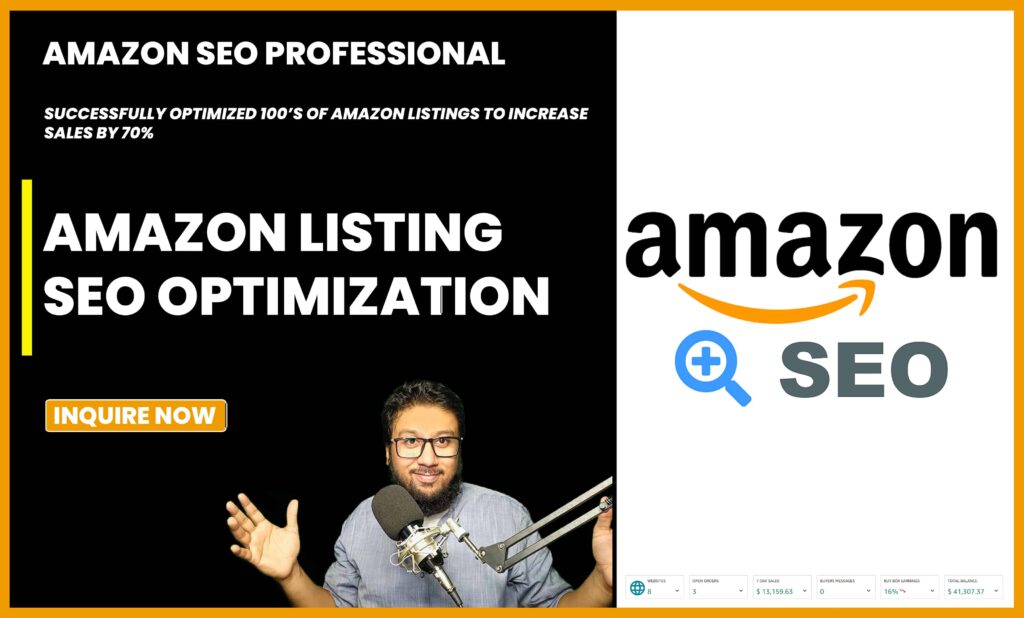 Amazon Listing SEO Optimization is a service that helps sellers improve the visibility and searchability of their products on Amazon. This service is typically provided by experienced Amazon sellers or marketing agencies that specialize in Amazon optimization.
The process of Amazon Listing SEO Optimization involves several key steps:
Research: The first step in optimizing a product listing is researching relevant keywords. This involves identifying the terms and phrases that customers are using to search for products like yours, and incorporating those keywords into your listing.
Optimize Product Titles and Descriptions: Once you have identified relevant keywords, the next step is to optimize the product title and description to include those keywords. This means writing product titles and descriptions that accurately and effectively communicate the features and benefits of the product, while also incorporating the keywords.
Improve the overall structure and design: Using high-quality images and videos to showcase the product -Ensuring that your product's features and benefits are prominently displayed -Including a detailed and informative bullet point list -Using a proper HTML formatting.
Monitor and Adjust: After optimizing the product listing, it is important to monitor the listing performance and make adjustments as needed. This includes tracking the ranking of the product in search results, as well as monitoring metrics like click-through rate, conversion rate, and sales.
The goal of Amazon Listing SEO Optimization is to increase the visibility of a product in Amazon's search results, which can lead to higher sales and better conversion rates. By using a combination of research, optimization, and monitoring, Amazon Listing SEO Optimization can help sellers improve their product's visibility and searchability, resulting in increased sales and profitability.
Amazon SEO optimization services can also include additional tactics like -Review management -PPC campaign management -Brand registry -In-depth analytics and reporting to give you a more comprehensive understanding of how to improve your product's performance on Amazon.
ABOUT SYED MUHAMMAD SHAMUEL SHEES:
Syed Muhammad Shamuel Shees (PE, CSP, CMIOSH, OSHA Authorized Outreach Trainer) is a diversified professional having strong expertise in compliance, e-commerce solutions, business development, and occupational health and safety. Currently working as "Director Business Continuity" and supporting various Fortune 500 companies in several segments of occupational safety & health and sustainability. Having worked with top brands in the UK & USA and managing complex requirements successfully; he is a renowned compliance expert. Few of his areas of interest in compliance fall within CPSC or Regulation (EC) No 1223/2009. From gap analysis to implementations, training top management to support staff, and business growth to its sustainability he is a valuable asset for organizations.
He is having extensive experience of over 16 years in consulting and supports services to various industrial sectors. If you are looking for Amazon Services or Ecommerce Support then you are at the right place that assures exponential business growth.